There are two main processes that induce skin aging: intrinsic and extrinsic. A stochastic process that implies random cell damage as a result of mutations during metabolic processes due to the production of free radicals is also implicated.
Extrinsic aging is caused by environmental factors such as sun exposure, air pollution, smoking, alcohol abuse, and poor nutrition. Intrinsic aging reflects the genetic background and depends on time.
Various expressions of intrinsic aging include smooth, thinning skin with exaggerated expression lines. Extrinsically aged skin is characterized by photo damage as wrinkles, pigmented lesions, patchy hyperpigmentation, and actinic keratoses
HOW WE CAN SLOW DOWN AGING PROCESS?
Timely protection including physical and chemical sunscreens
Avoiding exposure to intense UV irradiation
Antioxidants can reduce signs of aging: vitamins E and C, coenzyme Q10, alpha- lipoic acid, glutathione, and others
Lot of fruits and vegetables containing antioxidants is recommended
Exercise two or three times a week
Ideal control of the food preparation process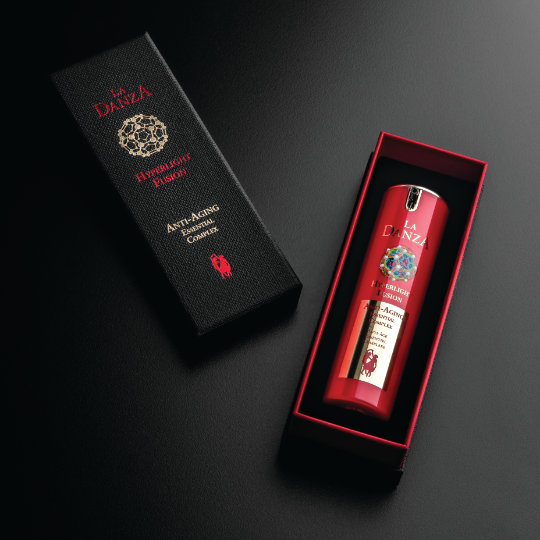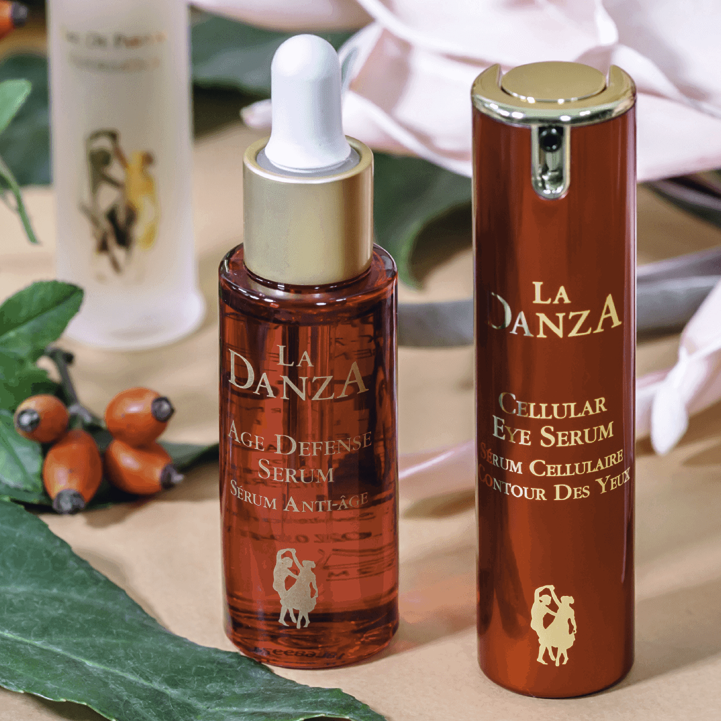 OUR SOLUTIONS
"Beauty is about enhancing what you have. Let yourself shine through"- Janelle Monae
INGREDIENTS
Swiss nanotechnology and natural active ingredients are the key elements of the exceptional La Danza skincare line. These extraordinary active ingredients of sumptuous texture make it the ultimate formula for combating aging.
The key active ingredient is antileukine 6 or "golden sea grass", which works very effectively against aging. It gets from the sea grass, in the formula contains 12k higher concentration than usual
Lipactive Inca Inchi® - the richest source of omega 3-6-9 fatty acids in nature, an organically grown plant from the Amazon rainforest that cures, regenerates and preserves the brightest skin
Hydrasalinol - plants that grow on the shores of the Mediterranean and the Atlantic, have specific properties that enable it to protect against dehydration due to the large amount of salt in the environment
Contains pure hyaluronic acid that the skin "loves".
EFFECTS ON THE SKIN
INDULGE IN LA DANZA SKINCARE LINE - NOURISH AND PAMPER YOUR NATURAL BEAUTY.
Nourish and soothe the skin (organic shea butter)
Support collagen and elastin synthesis (a biologically active form of soybean proteins)
Improve skin firmness and elasticity, even skin tone and assure a blemish free, natural, glowing appearance (kigelia africana)
Protect the lipid barrier of skin cells (borage oil: derived from the seeds of Borago Officinalis as it has anti-inflammatory properties)
Nourish, protect and regenerate skin (macadamia, sweet almonds and evening primrose oils)
Contribute to increased cell energy level and skin luminosity (microencapsulated vitamin C)
Provide protection from free radicals and fights signs of premature skin ageing (microencapsulated natural vitamin E)
Reduce DNA damage caused by UVA and UVB radiation (natural "shield")